Given a square matrix A nxn in the field K (real, complex body ... anyway ...).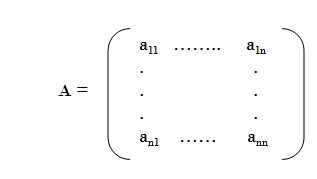 In many cases, it is possible to find a basis of vectors of V in which the matrix A is expressed as diagonal form, that we will call D, the change of basis is operated as follows
A = PDP
-1
(1)
This is interesant because (apart from geometric knowledge and know the consequences of eigenvectors and eigen values in many applications) D is much simpler and easy to operate, for example if we want calculate A
5
it is valid to make the operation
A
5
= PD
5
P
-1
As we will see, not all matrix are diagonalizable (that is, not for all matrix A it is possible to find a basis in wich A has a diagonal form).
However it is possible to obtain a change of basis in which matrix A takes a simpler form called Jordan form.
In both cases, to calculate the Jordan form or to calculate diagonal form we need to calculate eigenvalues and eigenvectors.