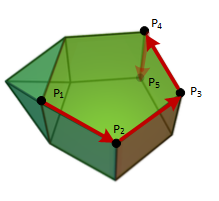 The simplex algorithm performs iterations into the extreme points set of feasible region, checking for each one if Optimalit criterion holds.
The Simplex Algorithm whose invention is due to George Dantzig in 1947 and in 1975 earned him the National Medal of Science is the main method for solving linear programming problems.
Given a linnear programming standard problem P,
Minimize C
t
x
Subject to
Ax = b
x ≥ 0
Where
A∈ M
mxn
, rk(A)=m, b∈R
m
, C∈R
n
, and n≥m.