The derivative of a function at a point measures the rate of change of the function at that point. We will see in this section this essential concept in physics and many other sciences in which Maths are applied.
Mathematical definition of derivate of a function f, at a point x
0
is

Equivalently by changing variable h=x-x
0

if limits does not exists it is said thaf f is not derivable at x
0
.
Geometrically it is usual to introduce the concept of derivative as the limit of secants rects as follows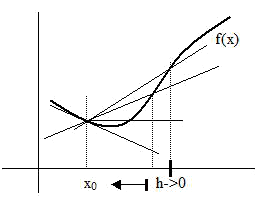 The limit of these secants is called tangent rect to the function at the point x
0
.
Another one approach to derivative concept is that it exists if the graph of the function is soft at that point where we mean by "soft" that is continuous and has not corners and nor jumps at that point.
An important fact easy to show directly from the definition is the following theorem