Let's make a worked example of Jordan form calculation for a 3x3 matrix.
Let's the matrix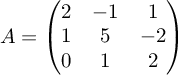 Calculate the roots of characteristic polynomial, ie calculate the eigenspace AX=λX, this is given for the equation system A-λI=0

Therefore, we have the λ=3 triple multiplicity eigenvalue.
We need to know the dimension of the eigenspace generated by this eigenvalue, ie, calculate dim [Ker (A-3I)], to do that, we solve the system
(A-3I)X=0
So, it appears

Thus we obtain a single eigenvector

Thus the dimension of the eigenspace is 1. Therefore, A is not diagonalizable, and we know that the Jordan form of A is

We calculate the basis of eigenvectors, for now we only have one, the v
1
, that is, we have to calculate two more eigenvectors. For this, we apply the theory, ie, we calculate a vector, v
2
such that.
(A-3I)v
2
= v
1
, ie solve the system

Now we have a second eigenvector, we now calculate the third one, v
3
, such that
(A-3I)v
3
= v
2
, ie solve the system

We're done because we have to
A = PJP
-1
Where

And P is those matrix formed the eigenvectors placed as columns, ie